"Love is lak de sea. It's a movin' thing, but still and all, it takes its shape from de shore it meets, and it's different with every shore." (1)
---
Northeast Pacific circuit
San Francisco - Mexico - Central America - Galapagos - Marquesas - Hawaii - San Francisco
September 1996 to October 1997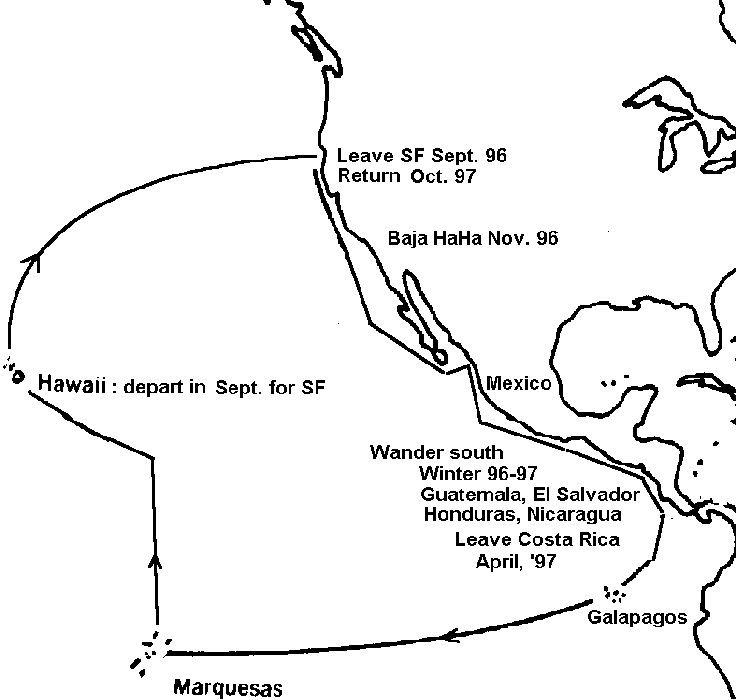 My crew starting this trip were Marc and Anna Syvertsen. I met Marc and Anna through their "Want to crew" ad in Latitude 38's classifieds. After some phone chat and email, they flew out from Madison, Wisconsin for a weekend trial sail, which went well. They live in Madison to attend the University of Wisconsin. Marc has finished his MS in Mechanical Engineering, and Anna is taking a break from her PhD work in Composition Studies, studying the relationship between writing and learning. They're also active lake racers in dinghies and keelboats.
Also "crew" on the boat:
The GPS, Yorick. Favorite quote: "(Alas,) Poor GPS Coverage".

Happy Adventure, aka Happy, the kayak.

The inflatable, Simply Messing, aka Messy.

Merri, short for Merrimac, the Monitor windvane self steering.

The ship's mascot, Courage, the cow.

Our autohelm is named Cowboy Neal.

...and on percussion, we have Thumper, our watermaker.

We call the radar Delphi. You can ask her any question, but she'll tell you what she wants you to know, and some interpretation is required.
---
<! note: flags are exported as 150 dpi 150x100 pel .gifs !>

In September (barely), we left San Francisco.

In late October, we entered Mexico.

Entering in the Baja Ha-Ha III.
After some R&R, we went to La Paz.
Next stop, a week in Caleta Partida.
A bit of excitement crossing the Sea of Cortez.

A word about the Chacala Project .

Our own visit to lovely Chacala .
Eight days in Puerto Vallarta .

I visited the Pre-Colombian Cultural Museum. Now so can you.

We spent a month in beautiful Zihuatanejo .
January: a touching Birthday Card to the skipper from the fearless crew.
Next stop: Acapulco.
Sent an email from Acapulco, Feb. 11, 1997.

Feb. 24- Mar. 3, we visited Guatemala.

Mar. 6-7 and again Mar. 12-15, we stayed in El Salvador.

The latter 4 days we relaxed at Isla Conchaguita.

Mar. 7-12, we were in Honduras.

No photos yet, but here's a picture of Puerto Amapala.

Mar. 16-28, we were in Nicaragua.

Sent an email from San Juan del Sur, Mar. 26, 1997.

March 30 - April 23, we visited Costa Rica.

May 1, at 0120 we crossed the equator at 88deg 53.3min W longitude. King Neptune visited to induct the new Shellbacks and sip champagne.

May 2-12, we were in the Galapagos Islands, Equador.

Here's up-to-date Galapagos ecological news from Naturalist Net.
There's a lot of island history and biological info at Charles Darwin Research Center.

June 3-13 we visited The Marquesas, French Polynesia, at the time an Overseas Department of France,
now an "overseas country inside the Republic" (pays d'outre-mer au sein de la République).

We arrived in Hawaii, USA, on July 1.

I sent an email from Honolulu. We left Aug. 21.
Back so soon? Another email from Honolulu. We left again Sept. 13.
Here's a photo of my Hawaii-SF crew , Greg Osgood and Mark Kintz, ready to depart.

On October 3, we got back home to San Francisco, California, USA.
I'll write up the homeward sail report soon.

As a side effect of this sailing trip, I've become a HAM radio operator, KF6GXB.




Back to Rick's travels.

No worries, Mate!

---

(1) The opening quote is copyrighted material &copy 1937 by Zora Neal Hurston, renewed &copy 1965 by John C. Hurston and Joel Hurston, from the book Their Eyes Were Watching God. Used here with thanks but without permission.